Paint your own chalkboard
Painting a chalkboard on the wall can be both fun and practical. The most popular place for a do-it-yourself chalkboard is a kid's bedroom. Another good location to add a custom chalkboard is a home office. A chalkboard on the inside of a kitchen cabinet door can provide a place to keep a running shopping list. A garage or workshop is also a good place to incorporate a do-it-yourself chalkboard.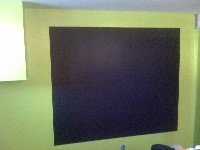 To make a chalkboard is as easy as applying a few coats of paint to whatever surface you want to turn into a chalkboard. Chalkboard paint is commonly available from many paint suppliers. A quart of chalkboard paint is relatively inexpensive. You should be able to find a quart of paint for around $10. Most companies however sell chalkboard paint only in traditional chalkboard colors black or green. If you prefer, you can make your own chalkboard paint by following this simple recipe:
Chalkboard Paint Recipe
One cup of latex based flat finish paint any color.
Two tablespoons of unsanded tile grout.
Mix thoroughly and you are ready to apply. One cup of paint should be enough for approximately 20 square feet. You may want to mix at least two cups paint if you plan on creating a chalkboard larger than 4' x 4'.
Step 1 - Tape off the edges
To begin with, tape off the area to paint with good quality painters tape. Painters tape comes in a variety of colors and applications. Make sure to look for masking tape that provides superior bleed through protection. Low quality masking tapes tend to allow paint to flow underneath creating uneven borders.
Step 2 - Prepare the surface
Before painting make sure to prepare the surface properly. Chalkboard paint can be applied to drywall, wood, plastic (if primed properly) and pretty much any other surface that you can paint with traditional latex paint. Unpainted surfaces should be primed with a good quality sealing primer. The primed surface should be sanded lightly using 120-150 grit sandpaper. Use 200-400 grit sandpaper to lightly sand in between coats of paint. This not only helps increase adhesion but promotes a smooth finish product.
If you are applying chalkboard paint to a drywall surface, you will want to ensure that the surface is as smooth as possible. Even if you have a smooth wall to start with, it may not be a bad idea to apply a skim coat of drywall mud. You can read more about smooth wall here and how to apply a skim coat here.
Step 3 - Choose the right applicator
If you are using a roller to apply the paint make sure to choose a low knap roller cover or even a foam roller cover as this will create a smoother finish. A smooth finish on a chalkboard ensures a good drawing surface. If you have access to a high-pressure suction-fed paint spray gun like those used for auto body repair work you will be able to create the smoothest of surfaces. Generally speaking, applying chalkboard paint with a 3/8" knap roller cover or mini rollers is just fine. A minimum of two coats of paint is recommended however more may be necessary depending on coverage.
Step 4 - Let the paint cure before using
Finally, make sure to wait a minimum of three days before using your finished chalkboard. Before writing on the surface you must prep the new chalkboard. To prepare your chalkboard, take a stick of chalk and using the side of the chalk (not the tip), rub chalk along the entire surface of the chalkboard leaving a film of chalk. This film can be erased and then you can draw and erase normally. If you wish to wipe the chalkboard clean with a damp cloth wait a minimum of 8-9 days to allow the paint to fully cure. Each time you clean the board with a damp cloth you will need to prep it again as outlined above.
Another option is whiteboard paint. Check out this article to find out how to paint a whiteboard.