Observations from using Ultralight Drywall
Ultralight© drywall has been on the market for about a year now. Several months ago we published an initial review of this breakthrough product in drywall hanging. Since that time we at Drywall 101 have had much experience using Ultralight drywall so we figured it is about time for us to give a few updated comments about this product.
Even persons with little or no drywall hanging experience know at least one important feature of drywall, traditional drywall is heavy! Ultralight drywall claims to be up to 30% lighter than traditional drywall and we at Drywall 101 can attest to its reduced weight. It is considerably easier to cut and hang than even half inch traditional drywall of the same size.
Considering the reduction in weight, perhaps the most important question on most peoples mind is whether or not Ultralight drywall is as strong as traditional drywall. The manufacturer claims that the use of colloidal technology means less weight while increasing the strength of the panels. We can say, at least anecdotally, that this seems to be true. It is able to span 24 inch on center studs on ceiling joists with less chance of sag as compared to traditional drywall.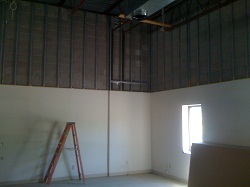 Our Favorite Job So Far
Perhaps our favorite application in which we have been able to spec Ultralight drywall has been a large warehouse that required some renovation including new drywall in certain areas. The walls of the warehouse had drywall installed previously up to ten feet. The current renovation required installing and finishing the drywall walls from the existing ten foot point all the way to the deck, approximately 20 feet high.
Most commercial applications require five eighths inch thick drywall which would discourage the use of Ultralight. Ultralight has been available in only half inch thickness. This job however allowed for the use of half inch drywall therefore we decided to specify using Ultralight panels. The increased ease of use was significant. Hanging drywall from a scissor lift always requires increased effort. Generally the panels must be first lifted onto the lift and then from the lift to the wall.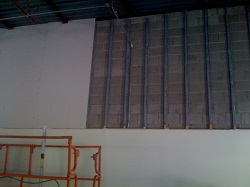 Using Ultralight drywall, the tradesmen were able to avoid climbing on and off the lift between each sheet. One person was able to cut sheets on the ground and hand a sheet to the person on the lift who was then able to grab the sheet and lift it into place. We have nothing but praise as for ease of use when it comes to ultralight drywall.
As for the cost of Ultralight, we must comment that it is an increase of about nine percent over that of traditional drywall. This amount can really add up when ordering large quantities of material. So much so that we feel that it is still cost prohibitive for many large drywall applications.
Its Future
We feel that Ultralight drywall will be around for a while and it is quite possible it will take over as the standard in coming years. 5/8" Ultralight is now available in many areas. If you are looking for 5/8" Ultralight drywall, you should check with some local drywall supply shops. If they do not have any in stock now, the probably will soon.
---