Why the demand for Chinese made drywall?
The problems associated with drywall from China have become well known in recent years. Between the years of 2001 and 2008, many homes across the U.S. were renovated using drywall imported from China. How did this become such a widespread problem?
Between 2001 and 2008 the demand for drywall across the United States increased dramatically. Why? Beginning in 2001 many people were turning their attention from the stock market toward investing in real estate and building houses. As the demand for new construction increased so did the demand for building materials, including drywall. In addition, the Atlantic hurricane season of 2005 was extremely destructive. Across Southern Florida, Louisiana, and Mississippi, these storms caused flooding and damage to thousands of homes. Because of the excessive number of homes needing renovation, the demand for drywall increased even more. To meet demand, drywall was imported from China. As early as 2001 and extending though 2007, thousands of homes across the U.S. were renovated using Chinese drywall. It is estimated that Chinese drywall was used in over 100,000 homes.
As of August 30, 2010 According to the Florida Department of Health and CPSC (US Consumer Product Safety Commission the States) States with the most reports of Chinese Drywall damaged homes include Alabama, Florida, Louisiana, Mississippi and Virginia. Only nine of the 48 Contiguous United States have not reported cases. States not reporting incidents related to damage related to Chinese Drywall in homes include Colorado, Idaho, Iowa, Montana, Nebraska, Nevada, New Hampshire, North Dakota, and Oregon.
Chinese Drywall Problems
According to the CPSC (U.S. Consumer Product Safety Commission), Chinese drywall samples showed higher concentrations of elemental sulfur, strontium, iron and organic compounds associated with acrylic paints, than non-Chinese drywall. Laboratory chamber studies showed higher emissions of volatile sulfur gases from Chinese drywall than non-Chinese drywall. Compounds found include Sulfur Dioxide (SO2), hydrogen sulfide (H2S), carbon disulfide, carbonyl sulfide, strontium sulfide and other compounds.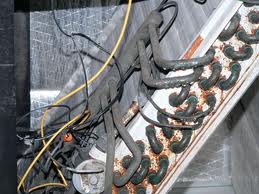 Why are high levels of sulfurous gases such a problem? When these gases mix with water, they produce an acidic formulation. This formulation corrodes metals. One of the first manifestations of a problem with Chinese drywall is that it causes air conditioning units to fail prematurely. Air conditioning coils have lots of surface moisture caused by condensation. When sulfurous gases combine with condensation on the copper coils it results in a caustic formulation that eats away at the copper and solder joints in the air conditioning unit, thus causing the units to fail prematurely.
The damage is not limited to air conditioning units. In fact, any metal in the home can be affected by the high levels of sulfurous gases. Mirrors, jewelry, sink fixtures, electronic equipment, microwave ovens, refrigerators, stoves, dishwashers, washer/dryers, light bulbs, anything with metal components can be affected by the corrosive gases.
How did the sulfur get into the drywall? It is hypothesized that the mines used to gather gypsum for the drywall in question contain high levels of sulfur and/or pyrite. Pyrite oxidization may be a cause for the release of sulfur compounds. The name of the gypsum mine in question is the LuNeng mine.
Aside from anecdotal reports of health problems related to the off-gassing of Chinese drywall no health effects have yet been found directly associated with Chinese drywall in homes. Many homeowners claim that their homes smell of rotten eggs or fireworks. Some individuals have claimed of experiencing headaches, eye irritation, fatigue, and random nose-bleeds. This will likely be an area of continued scientific study.
How do I know if my home was built using Chinese drywall?
If your home was built or renovated between 2001 and 2008 it is good to check whether your house was built with Chinese drywall. Especially is this true if your home is located in southern Florida, Louisiana, or Mississippi. How do you check the source of the drywall in your home? The best way to find out the source is to look at the backside of the drywall. To do this you will need to crawl into the attic to find an area where you can view the backside of the drywall, or find another area in your home to view the paper on the backside of the drywall. This can be difficult without damaging the walls.
Any product imported from outside the United States is required to declare clearly by packaging its country of origin. Drywall from China may have one of several labels printed on the back side of the board. Drywall with one of the following markings: "KNAUF", "China", "Made in China", "Tianjin", "Taian", "Taishan", "ASTM 36" or "DrYwall", is known to have problems with concentrations of sulfur compounds. It is estimated that over 100,000 homes were built with imported drywall. Most of the drywall was imported through companies such as "Knauf Plasterboard Tianjin", "Beijing New Building Materials (BNBM)", and "Taian Taishan Plasterboard".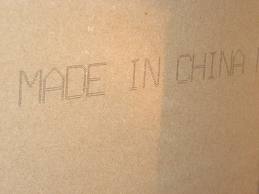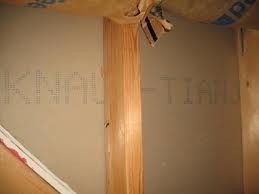 What can be done?
The best way to remedy the problem is by gutting all drywall from an affected home and installing new drywall. Many times components throughout the home have already been affected therefore they will need to be removed and replaced as well. In many cases all the copper piping and electrical wiring needs to be replaced as well as fixtures and any other metal components throughout. It is estimated that the average cost of remediation is $100,000 per home. Of course, this amount will vary depending on the size of the home.
Insurance companies are claiming that homeowners' policies do not cover defective drywall. A contractor's business insurance should cover the cost of remediation but this will depend on the exclusions of the policy.
The U.S. federal department known as the CPSC (Consumer Protection Safety Commission) is heading investigations and leading the government's reaction to this problem. The CPSC is working with the EPA, HUD, CDC-ATSDR and ASTM to address specific issues. You can view some reports on the CPSC website.
The problems of remediating houses go well beyond the work needed to gut and repair a home. Mortgage forbearance and tax implications are big areas of concern for owners of affected homes. Recently the Internal Revenue Service (IRS) announced a provision to allow owners of affected homes to treat the homes as a casualty loss and provides a "safe harbor" formula to determine the amount of the loss. More information can be found under the IRS revenue procedure 2010-36. This procedure can be viewed at www.irs.gov/pub/irs-drop/rp-2010-36.pdf.