Santa Fe Drywall Texture
Santa Fe drywall texture currently is popular in the southwestern United States across Arizona, New Mexico, Texas, California, and Nevada. This texture is also seen in parts of Florida however the style is different from that seen in some of the southwest cities. Perhaps it got it's name from the design styles popular in the city of Santa Fe, New Mexico. The city is known for it's adobe style single story houses that resemble ancient American Indian dwellings.
A true Santa Fe texture is very low profile drywall texture. It can be described to appear as two smooth layers of drywall, the top layer allowing the lower layer to show through in random areas. This is caused by skimming a thin flat layer of drywall mud over a well prepared drywall surface while not allowing the drywall mud to cover the entire area. Santa Fe textures can be applied as anywhere between 60% to 90% coverage, based on personal preference. Anything below 50% coverage starts to resemble a skip trowel texture.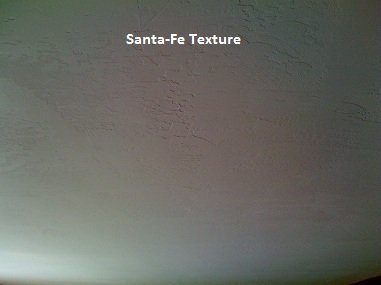 To do a true Santa Fe texture you need to use a curved drywall knife that is at least 18 inches wide with a long 16 to 18 inch handle. Usually these knives can be found described as knockdown knives or perhaps under the category of drywall texture knife. The term Santa Fe is sometimes falsely used to refer to a texture that resembles a stomp knockdown texture. When trying to imagine a Santa Fe drywall texture it is best to imagine the adobe style houses of Santa Fe, New Mexico and the stucco surface that appears smooth from a distance but reveals a low profile, two layer texture up close.
As with all drywall texture styles. The terminology may change from city to city as well as tradesman to tradesman. When hiring someone to texture your new house or renovation it is best to see actual samples of drywall textures created by the tradesman who will be doing the work. This is the best way to imagine what the final product will look like on your walls.