What tools are needed for simple drywall work?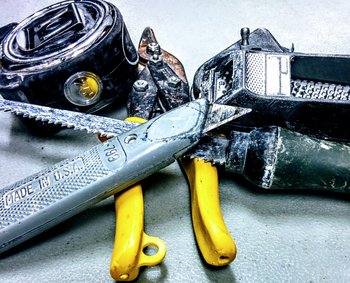 Basic drywall patches can be done with tools common to many do-it-yourself homeowners. If you are a homeowner interested in doing small drywall repairs, you can obtain most tools needed for less than $100.
Drywall is easily cut with a drywall utility knife by scoring through the paper on the surface of the drywall board and then bending the board until it breaks the interior gypsum material. Drywall can be installed on wooden or steel studs with nails or screws. Therefore you need at least a hammer or an electric drill. You can use a cordless drill to install drywall but you must be careful not to puncture the drywall paper. Taping and finishing drywall patches is done with drywall finishing knives. Good quality taping knives can be purchased for around $10 each, and a good quality drywall mud pan can be found for around $10 as well.
Basic Tools Needed:
Other Tools Nice to Have:
Keyhole Saw
Drywall Screw Gun
Cordless Drill
Rasp
RotoZip®
Ten Inch Drywall Knife
Halogen Light
Sanding Pole
If you are contemplating tackling a project larger than that of patching a few small holes in the wall, you will need more than the few tools mentioned above.